Coronation Street is the longest running Soap Opera in the world with its first episode being broadcast on 9th December 1960. Radio dramas were sponsored by soap manufacturers long before television arrived. Liz Dawn who played the character of Vera Duckworth was awarded an MBE, Member of the British Empire, for her contributions to the arts as an actor.
Liz was born in 1939 and she died in 2017. Liz used to act as a landlady in the fictitious pub on the cobbled street in the place Weatherfield residents called The Rovers Return. In real life Liz would go on to become landlady of The Grapes public house just off Deansgate, on Little Quay Street.
The Grapes took up part of the Sunlight House building that was built in 1932 and at the time was Manchester's biggest building. Joseph Sunlight, from Belarus and son of a Jewish cotton merchant, was the architect.
He is thought to have built over a thousand houses in Prestwich and a synagogue in Fallowfield. As it was located near to the old Granada Studios on Quay Street where the programme was filmed, including scenes in the Rovers Return, many of the Coronation Street cast would frequent her establishment. This is an indication of how close-knit the cast were and are, and how loved Liz was as a person.

Jack Duckworth, played by actor Bill Tarmey, met Vera when he was working on a fairground. Jack married Vera after falling in love and despite their ups and downs they stayed together for decades. Jack was known as a pigeon fancier as well as a loveable rogue.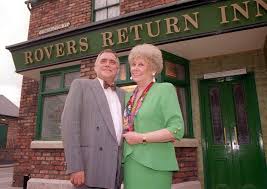 Another couple who starred in Coronation Street were Hilda and Stan Ogden. Hilda was played by Jean Alexander for over 20 years until 1987. Stan was played by Bernard Youens until his death in 1984. The writers wrote Stan's on screen funeral into the storyline. Hilda broke down crying at their dining table after finding his spectacles amongst Stan's hospital belongings. Jean Alexander won the Best Performance Award by the Royal Television Society as a result of that memorable performance.
Hilda and Stan Ogden had a friend in bin-man Eddie Yeats. Eddie was played by actor Geoffrey Hughes, and he stood out because of his accent. Born in Wallasey, Geoffrey had a Scouse (Liverpool) twang that was unusual for the programme. Although Coronation Street is in the North West of England, most actors at the time Eddie would pop into number 13 to visit the Ogdens, sounded Lancastrian.
Before Geoffrey joined the Soap he voiced Paul McCartney in the 1968 Yellow Submarine animation. He played the part of Onslow in Keeping Up Appearances from 1990 for five years. In the Royle Family from 1998 until 2000 Geoffrey acted as Twiggy who was Jim Royle's mate. The theme tune to the Royle Family is Half The World Away written by Noel Gallagher, and the tune appeared on the debut album of Oasis in 1994. Definitely Maybe was the first of seven studio albums to be recorded and released by Oasis and the fastest selling debut album in the UK, selling over 8 million copies throughout the world.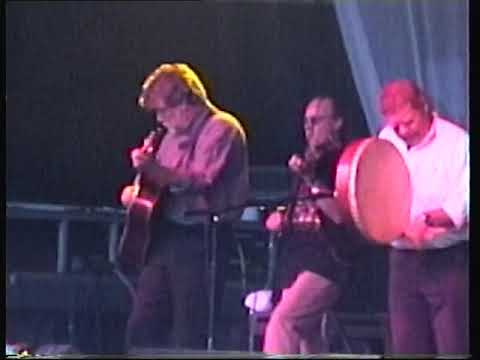 Following the Royle Family stint, Geoffrey spent four years playing Vernon Scripps in Heartbeat which was a Police drama set in the North Riding of Yorkshire in the 1960s.
Geoffrey Hughes was known for his passion for music and would often jump up on stage at folk festivals and have a jam, much to the delight of the crowd. Geoffrey was friends with my parents and my music teacher Marian Egan, (nee Flannery). He attended Marian's wedding in Ireland to Malachy Egan in 1982, and signed autographs as well as posing for photographs behind the church before the service. Word had got around the village that a celebrity was in town so each time Geoffrey tried to actually make his way into the church another local would appear and ask for his attention. They weren't even guests at the wedding!
Geoffrey paid a visit to Cringle Road in Levenshulme where my sister and I grew up. It was 1983 and just before Eddie Yeats was to be killed off as a character. He had his Bodhran, an Irish hand or stick drum, with him and I played a tune on my tin whistle along with his percussive accompaniment.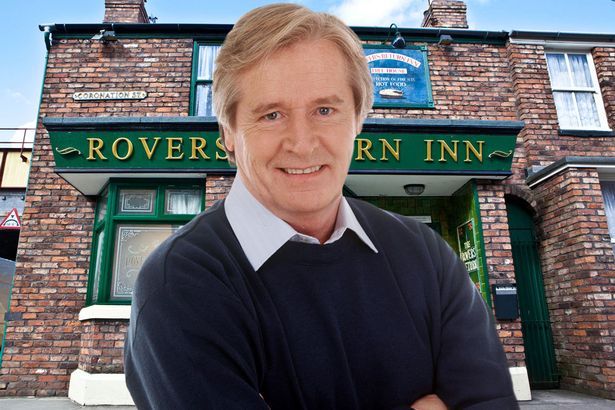 One character who took part in the very first episode of Coronation Street on December 9th 1960, and still appears, is Ken Barlow. William Roache MBE, who plays Ken, turned 88 years young on 25th April 2020 and has aged gracefully. Ken was married to Deirdre in 1981, the year of the Royal wedding of Prince Charles and Lady Diana. Deirdre was played by Anne Kirkbride and tied the knot for a second time with Ken in 2005. Both marriages lasted ten years with the second union ending due to the death of Anne in real life on 19th January 2015. In 2007 my girlfriend at the time Chris and I were walking through the Arndale Centre when we noticed a book signing at Waterstones. William Roache was sitting at a desk but as it was the end of business hours there were no fans left and just a few members of staff were waiting to close up. I bought William's autobiography which he duly signed. Then, without missing a beat, Chris asked "Are we the last ones then?" to which William replied "Yes, everyone's been and gone."
"In that case," said Chris "Is there any chance I can have that huge poster as you don't need it anymore?" 
"Yes you can," he replied, "would you like me to sign that too?"
As he signed the three feet long poster of himself, William said "Watch her, she'll go a long way!"
Sometimes the second mouse gets the cheese.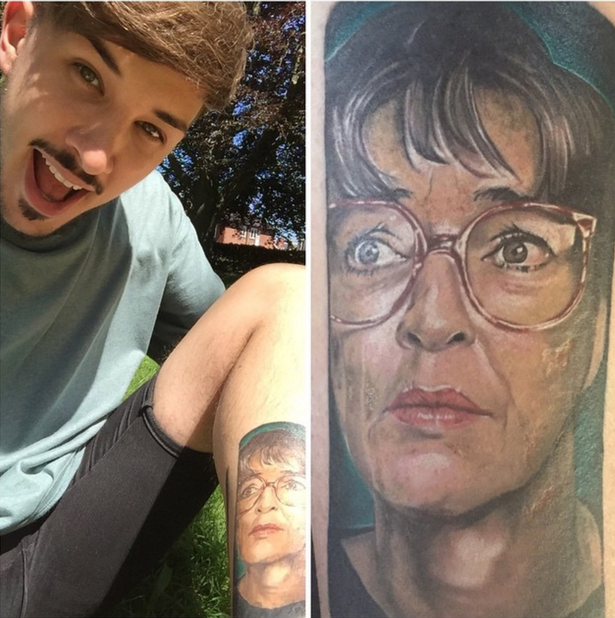 One of the victims of the Manchester Arena bomb on 22nd of May 2017 was Martyn Hett, a big character with a real sense of humour. He was a big social media star and a huge fan of Coronation Street. He made lots of funny videos, including acting as a drunk Deirdrie Barlow, who he also had a tattoo of. On watching the take-off, Anne found it funny and Martyn was a talking point among the cast of Coronation Street. So much so that some of the cast attended his funeral, where his coffin was covered with photos of his idols on and off the Street. Martyn had appeared on a programme called the Tattoo Fixers where people often make an attempt to conceal a piece of body art. Not in Martyn's case, where instead of removing the word Deirdre, he had an additional tattoo of Deirdre tattooed onto his leg. In a response to the Arena attack where 22 people were killed, including Martyn, a Tattoo shop in Chorlton offered a tattoo of the Manchester Working Bee for £50 pounds, going towards a fund for the victims' families. This led to the biggest queue for a tattoo parlour in Britain as it was over a mile long! 
While the Bee installation was still in town, as part of the Manchester International Festival 2017 Joe Duddell collaborated with Royal Northern College of Music to perform New Order songs in the old Granada Studios. While Joe led the R.N.C.M. orchestra Liam Gillick took charge of the visual spectacle. I was conducting some interviews of New Order fans for broadcast on North Manchester FM 106.6 when somebody told me that Hayley from Coronation Street was present. Although the crowd was at full capacity I knew it would be easy enough to find Julie Hesmondhalgh who acted as Hayley in that very building from 1998 for 15 years. Julie agreed to an interview in which she mentioned how nice it was to be back in a building that was full of memories and how lovely people were in the crowd. Lots of punters had shouted 'Hayley' and were letting on throughout the night. Julie played a transgender woman in the Soap and had a long standing on-screen relationship with Roy Cropper, played by David Neilson. At the National Television Awards in 2014 Julie won Best Serial Drama Performance. She also won Best Actress at the British Soap Awards the same year.
Performing in Wit at the Royal Exchange Theatre in Manchester in 2016 inspired Julie to bring her Coronation Street career to a close. Julie was born in Accrington, home to one of the 12 teams that were in the very first football league founded in Manchester in 1888. An 18 year old Julie moved to London to study drama. In her interview with me Julie mentions how she missed out on the "Madchester" rave scene that exploded in 1988 just as her career was taking off in London. Equally though, she felt proud of what was going on "Up North" and Julie eventually got to party. She has appeared in countless productions on stage, television and film. 
Julie played a role in Peterloo. Peterloo is a film that tells the story of how Henry Hunt came to deliver a speech on Peter's Field in Manchester, and is directed by Mike Leigh. Set around the 16th of August 1819 we are directed through a series of events where what started out as a peaceful protest became a bloodbath. About 60,000 people gathered to campaign for political representation and for the right for men to vote. Manchester had a population of about 150,000 people at the time so well over a third of the masses turned up. Maybe the French Revolution of 1789 was in the minds of the British authorities when they sent in the Militia or maybe it was just mindlessness on the part of the Yeomanry but about 650 people were left injured and 18 people died at the hands of the State. It was a turning point in British politics and an event that led to the Manchester Guardian being printed before the paper became the Guardian. The printworks for the Manchester Guardian were in the building that is currently Boots the Chemist in the Arndale Centre. 
Mike Leigh is an acclaimed screenwriter, playwright, theatre and film director. Mike has been awarded an OBE, Order of the British Empire and FRSL, Fellow of the Royal Society of Literature. Mike was brought up in Broughton, where he attended Salford Grammar School, which is now Buile Hill Academy near Buile Hill park in Pendleton. Mike's grandparents were Russian-Jewish immigrants and family outings included visits to see and hear the Halle Orchestra perform at the Free Trade Hall on Peter Street, Manchester. 
I first met Jack P. Shepherd, who plays the role of David Platt, circa 2005 at the Circle Club, when Jack was playing an evil character who was ruining people's lives, if not endangering them, on the Street. I simply let on to Jack as he appeared to want to have a drink in peace which was the opposite of what Jack's on screen character would be doing. The Circle was on Police Street near St. Ann's square and is now a cocktail bar. It used to be like The Press club or Bookbinders where you may bump into a celebrity but more often than not you wouldn't. About the same period of time I was at the Circle for a launch of a fashion range, drumming with the Jakpot. We were all given a load of clothes : Vans trainers, Fender shirts, Backpacks.
I met Andy Rourke just before we went onstage and he was also clothed from head to toe in the same clobber. We played to a packed house which is quite easy to do when the venue such as the Circle can only hold a hundred or so. It's even easier though when there happens to be a free bar!
The next time I met Jack was after a Mamma Mia press night at the Palace Theatre on Oxford Street in Manchester. The Abba spectacular was a musical that appeared to be popular and I was busking outside the venue each night that the show took place. I also had my Marantz with me which is a piece of recording kit for the best quality audio used on radio and in "the field", so out and about. Jack gave me a soundbite for the Community Radio station I work for, North Manchester FM 106.6. A soundbite is where a celebrity introduces themselves and says "You're listening to…" They work best when there is a tight timeline to deal with. I got a soundbite from Ed Sheeran just before he went onstage at the Academy in Manchester and one from Johnny Marr as he was walking out of Salford University following his guest lecture. Jack managed the soundbite in one which is more than can be said for other people. Katie Thistleton who presents on BBC radio One and Rowetta from Happy Mondays both needed a few attempts!
On New Year's Day 2020 I was in Second City in Ancoats ahead of Manchester City's evening match with Everton at the Etihad Stadium. After one failed attempt I tried to play along with the jukebox with my flute. Dirty Old Town was the song and I eventually managed to play along, whilst hula hooping. I saw Jack P. Shepherd in the bar as I blew and spun around. As I made my way out of the bar Jack told me how impressed he was with my multi-tasking and he obliged me with a selfie.
That is how the year started and if you were to tell people that Jack's team Leeds United would be taking part in the curtain raiser for the 2020/ 2021 Premier League football season at Anfield against Liverpool most people would not believe that possible. If you were to tell me back then that the match would be taking place behind closed doors I would have thought it even more far fetched. Both have happened such as was the crazy year 2020.